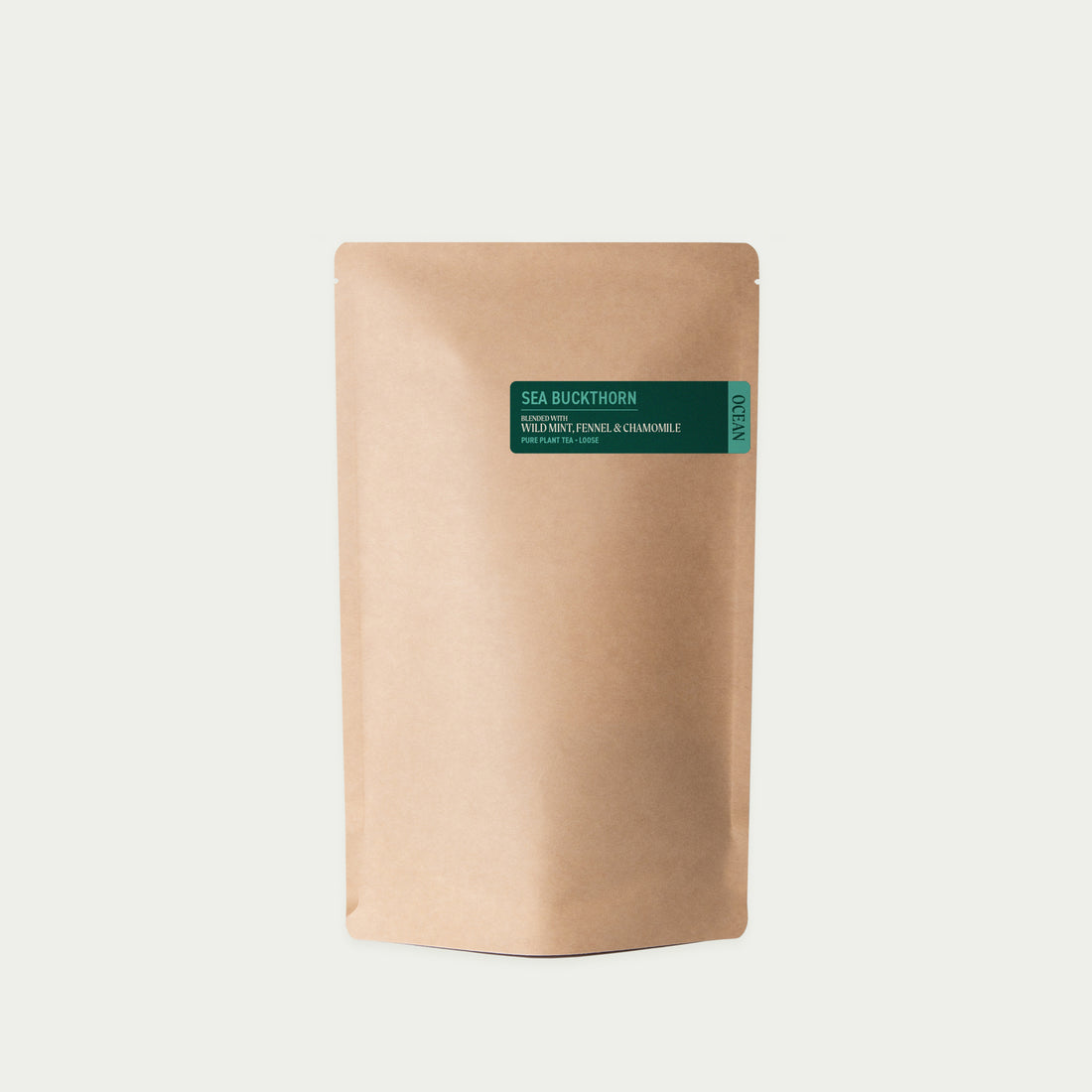 INVIGORATE . REJUVENATE . REFRESH
The clean taste of sea buckthorn leaf is blended with the ocean coolness of wild mint and the sweetness of fennel and chamomile. The leaves of sea buckthorn have traditionally been brewed for the high levels of flavonoids, antioxidants and vitamins they contain which can help to rejuvenate and relax the body.
50g of loose tea blend
NATURAL & ETHICALLY SOURCED INGREDIENTS:
- Sea buckthorn (Hippophae rhamnoides) - 45%
- Organic fennel seed (Foeniculum vulgate) - 20%
- Organic chamomile (Matricaria recutitta) - 15%
- Organic wild mint (Mentha arvensis) - 10%
- Organic spearmint (Mentha spicata) - 10%

Organic content - 55%
OCEAN makes an amazing hot or cold brew to drink any time of the day or night.

HOT BREW INSTRUCTIONS:
- We recommend 3g per 250ml cup.
- Use water just off boiling and aim to boil only what you need.
- Brew for up to 10 minutes depending on desired strength.
- Best brewed in a tea pot with strainer or strainer direct in the cup.

COLD BREW INSTRUCTIONS:
- Simply make up your brew the same as above.
- Once brewed pour into a glass or bottle and add ice.
Or:
- Add the blend direct to cold water and leave for at least a couple of hours to slowly brew.

SECOND BREW:
- Savour the ingredients and brew twice.
- As the plants rehydrate in water you often get a slightly different, more complex flavour on a second brew allowing you to make the most of the precious ingredients.