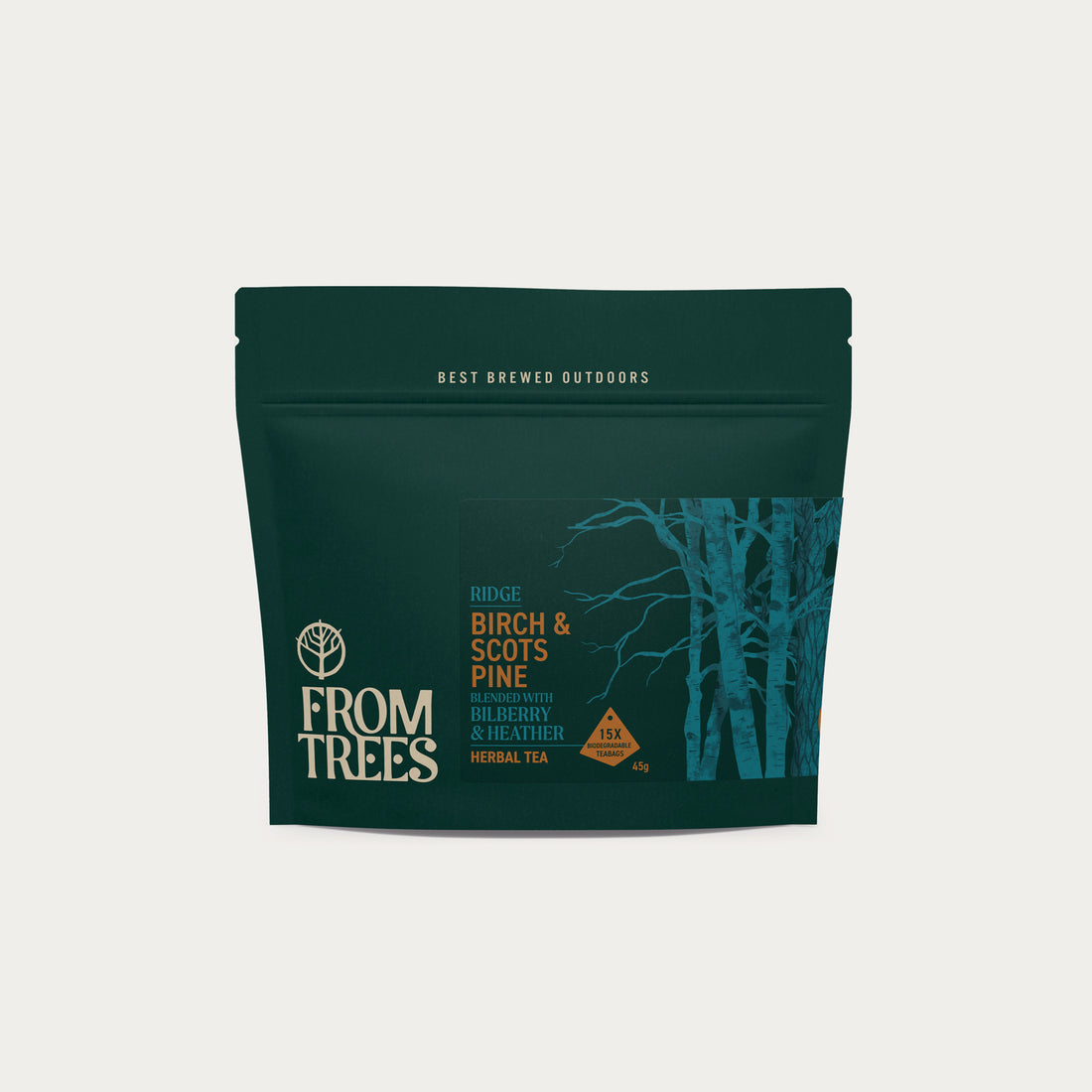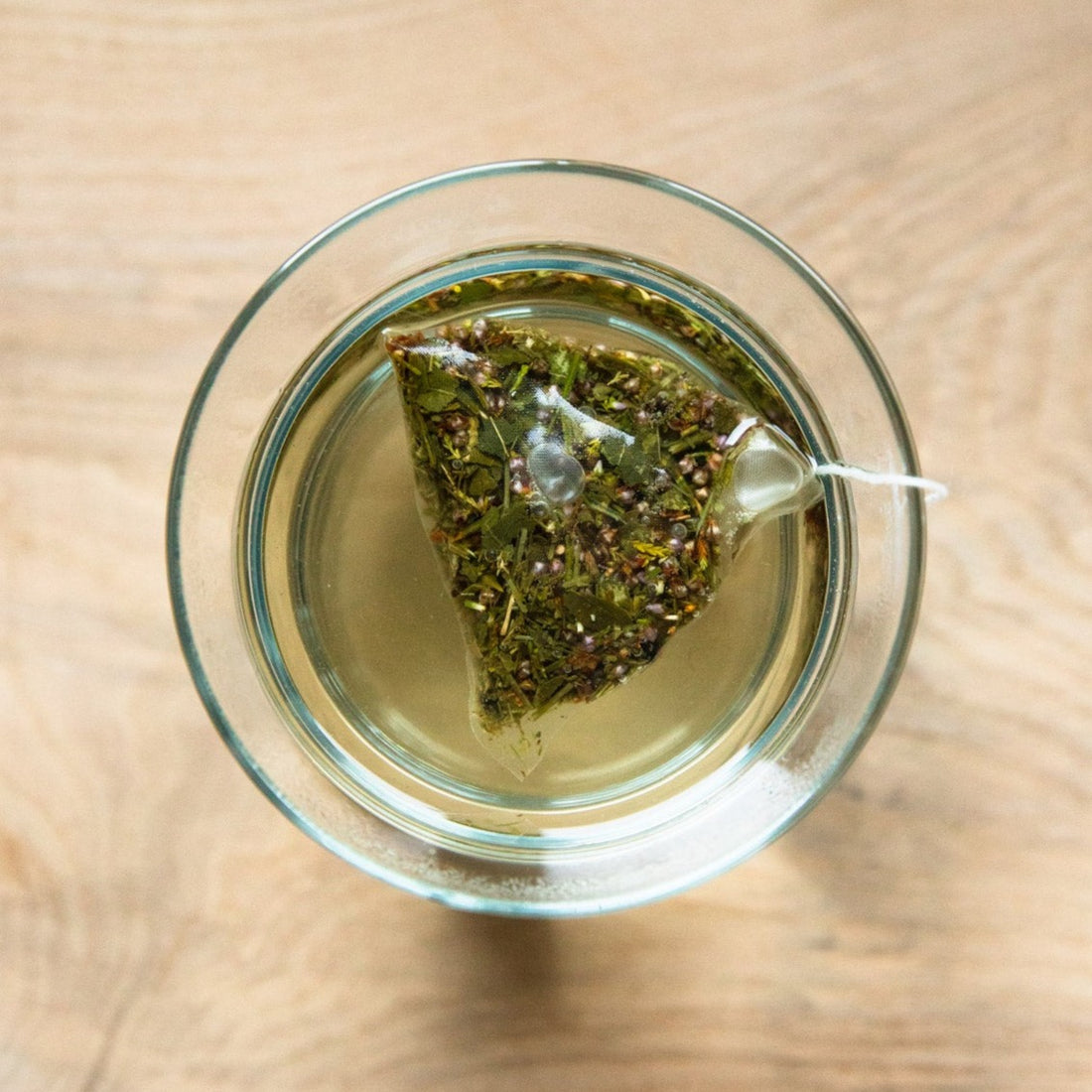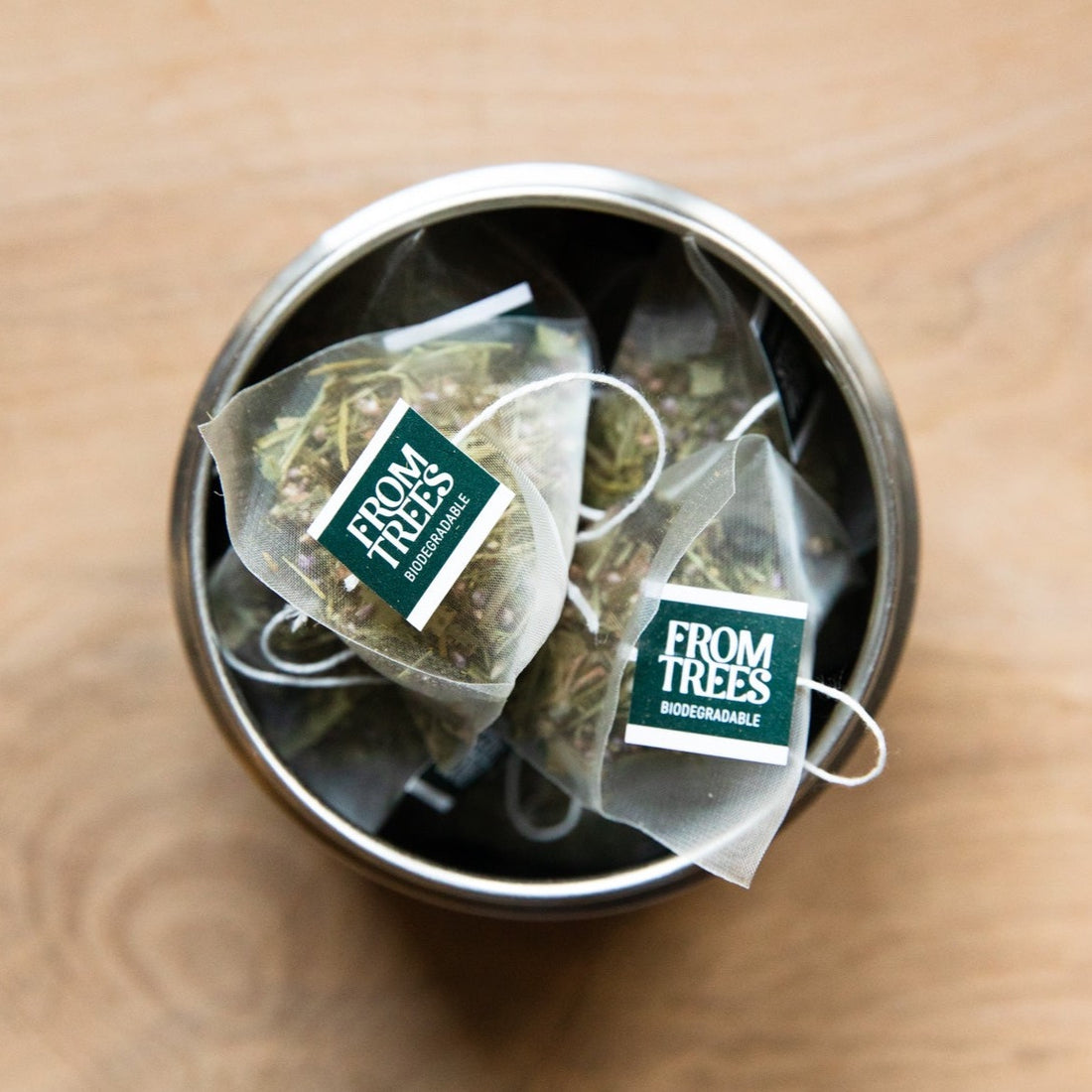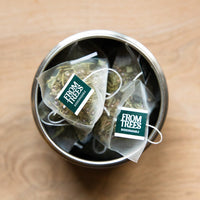 Ridge - BIRCH & SCOTS PINE TEA
REPLENISH . PURIFY . RENEW
Engage the senses with the smell of pine and the subtle fresh taste of birch leaves. People of the cold north traditionally brewed a pine tea as a source of vitamin C and as a cleansing antioxidant. Birch is used as a detoxifier, it is a tree symbolic of renewal and purification.
15 biodegradable pyramid bags with organic cotton strings.

To be super safe: we don't recommend our Ridge tea if you are pregnant or breastfeeding. If you have any underlying health conditions then, as with anything new, check with your doctor or herbal practitioner before drinking. 
Working with a medical herbal practitioner is a wonderful way to keep your body and mind in optimum health. 

NATURAL & ETHICALLY SOURCED INGREDIENTS:
- Organic Scotts pine (Pinus sylvestris) - 37%
- Heather flowers (Erica vulgaris) - 23%
- Birch leaves (Betula spp.) - 20%
- Organic bilberry (Vaccinium myrtillus) - 20%

Organic content - 57%
RIDGE makes an amazing hot or cold brew - light and fresh like mountain air. We think this tea makes the perfect morning brew.

HOT BREW INSTRUCTIONS:
- We recommend one pyramid bag per 250ml cup.
- Use water just off boiling and aim to boil only what you need.
- Brew for 3 - 8 minutes depending on desired strength.
- Treat like green tea - add a splash of cold water to the cup before the hot water. This will allow you to brew for longer without any bitterness. The birch leaf, like green tea, scolds under boiling water.

COLD BREW INSTRUCTIONS:
- Simply put one pyramid bag into your water bottle.
- Remove the organic cotton string and tag.
- Leave for at least a couple of hours to slowly brew.

SECOND BREW:
- We have generously filled each pyramid bag with pure ingredients so you experience the best brew.
- As the plants rehydrate in water you often get a slightly different, more complex flavour on a second brew allowing you to make the most of the precious ingredients.
- We like to hot brew and then remove the pyramid bag from the cup, allow to cool slightly, remove string and tag, and then simply put into your water bottle for a super refreshing cold brew.